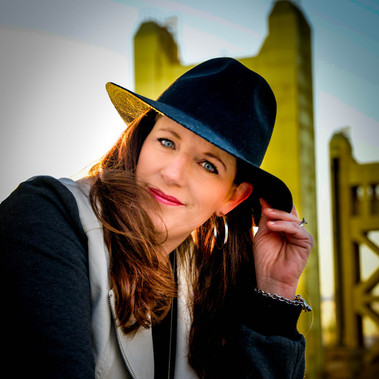 I consider myself North American. I grew up outside Toronto, Canada in a hamlet called Ashburn. (I still have the street sign!) It was a quaint country town with cows, farms, only 500 people and a general store where you picked-up your mail.

Conversely, we then moved to San Clemente, California where I grew up at the beach among the waves and surf culture. Between the cornfields and beaches, I was allowed to roam anywhere. Absolute freedom was the best thing about it. I cherish both locations for providing me with such a diverse and free childhood.
Since then I have moved several times on my own. I'm a mover. (My poor husband.) I have lived in Monmouth Junction, NJ, Fort Lauderdale, FL, Long Beach, CA, Burbank, CA, Moorpark, CA and now reside in El Dorado Hills, CA.
I love Mother Nature. I am happiest when outside. I consider Lake Tahoe, Yosemite and Switzerland to be three of the most beautiful landscapes EVER...so far.
And I am still sad and angry that Anthony Bourdain is not longer with us.
Aesthetic
I love to capture life in its purest form. Whether it is an abandoned building or laughing child, my desire is to capture an authenticity in my photos. I prefer natural light, unposed photography to the scripted shoot.

William Eggleston is my favorite color photographer.
Ansel Adams is my favorite nature photographer.
Annie Leibovitz is my favorite editorial portrait photographer.
One of my favorite hobbies is to take a morning walk. It not only gets the body moving, gets the dog outside, but the light is always so gorgeous that I end up taking lots of photos. I love golden hour at sunset but there is something clean and crisp about a sunrise.
Travel photography is my passion. When I was 11 years old, my father took my family to Europe for three weeks and traveled to 13 countries. I have wanted to emulate that trip ever since. Until then, I will simply take photos of my travels along the way.
Let's collaborate
Have an upcoming project? Your project is my project. I would love to hear your vision and help you achieve it.
Email me and let's make it happen.
Text or call me as well 818-439-5290